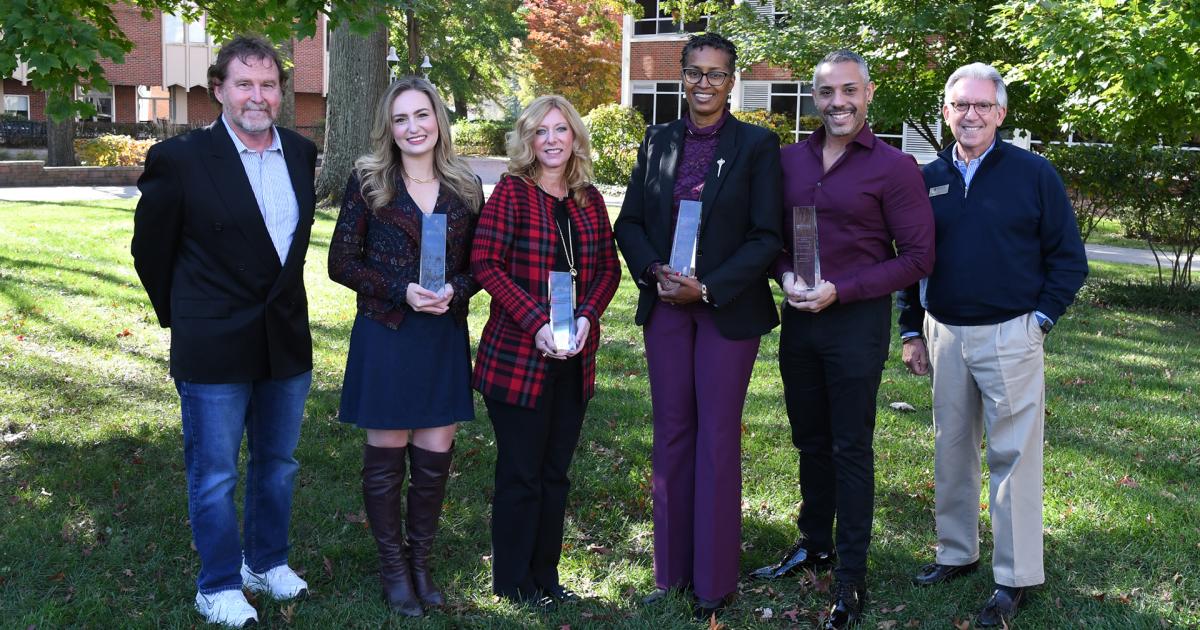 Five distinguished alumni of Rider University were recognized on Nov. 6 for their professional accomplishments and outstanding contributions and service to their professions, communities and alma mater.
All of the recipients were recognized during a ceremony that took place over Homecoming weekend, which returned in person this year. 
​​Alfred S. 'Rusty' Hooker '80 received the Distinguished Alumnus Award, which is given to alumni who have achieved exceptional attainments in life. He has managed the tours and careers of some of the biggest names in the music industry, including The Rolling Stones, Michael Jackson, Madonna, Bon Jovi and more. His career accelerated just five years after graduating from Rider, when he founded Rock Steady Management, a full service tour accounting firm providing financial management, budgeting and accounting services for national musical tours. 
Hooker received a Bachelor of Arts in Communications from Rider. As an undergraduate, he enjoyed participating in campus intramural sports and was president of Tau Kappa Epsilon fraternity. For his work, he has been recognized by Performance Magazine as 1988's Tour Accountant of the Year and 1990's Tour Manager of the Year. 
Dr. Amy E. Stella '00, '20 was presented with the 2021 Harold L. Conover Leadership Award, which is bestowed annually upon a Rider graduate who has distinguished him or herself as an exemplary leader in the field of nonprofit, professional, community or government service. 
Stella, who is the director of curriculum, instruction and professional development in the Northern Burlington County Regional School District, has served as an exemplary leader in public schools for more than 20 years. Stella earned a Master of Arts in Curriculum, Instruction, and Supervision with distinction from Rider as well as her graduate-level teacher certificate and principal certification. Most recently, she was a member of Rider's first class of doctoral students. 
Dr. Deborah Gladden Haskins '81, '84 was presented with the 2021 Lawson R. McElroy Award in Engaged Learning, which is awarded to a Rider alumnus or alumna who works in either the private or public sector in support of students or employees learning outside of the formal classroom. 
Through her professional service as well as her scholarship, Gladden Haskins has devoted herself to helping others. Until her retirement in 2019, she was the director of counseling programs and an associate professor of counseling at Trinity Washington University. Prior to that she served for 16 years on the faculty of Loyola University Maryland. She is a recognized specialist in disordered gambling and continues to be an active licensed clinical professional counselor.
Gladden Haskins received a Bachelor of Arts in Office Administration and a Master of Arts in Counseling Services from Rider, as well as a Doctor of Philosophy in Pastoral Counseling from Loyola University Maryland. She has received many awards and honors throughout her career, including the Monsignor Joseph Dunne 2021 Lifetime Award for Advocacy. 
Victor Miranda '99, '01 received the 2021 Gordon E. Prichard '63 Award for Volunteer Service. The award is given to a graduate who has distinguished him or herself as exemplary in providing volunteer service to the University.  
Miranda, who received a Bachelor of Arts in Finance and a Master of Business Administration from Rider, is a committed volunteer to the Rider University Cheerleading squad. Under his guidance, the team has qualified to compete nationally in the Collegiate Cheer and Dance Championship in Daytona, Fla. In addition to his coaching duties, Miranda also supports the athletes in other ways, participating in community and fundraising activities, sending birthday greetings to team members, and attending their weddings and supporting them through challenges outside of cheerleading. 
Kaitlin Rust '16 received the 2021 Outstanding Young Alumna Award, which recognizes alumni who have completed their studies at Rider within the last 10 years and who have achieved notable success in their work. Rust has had a robust career in broadcast journalism, reporting on a number of high-profile, historic stories, including covering Hurricane Harvey for NBC Nightly News with Lester Holt and the murder of Breonna Taylor and subsequent protests in Louisville. She is currently a reporter and fill-in anchor for WVUE FOX 8 News, a FOX affiliate in New Orleans. 
Rust's career in journalism began before she even graduated with her bachelor's degree in digital media: film, TV and radio. As a student, she was an MSNBC production intern, a Fox 5 New York assignment desk intern/field reporting intern and a Fox 29 Philadelphia junior reporter. 
https://www.rider.edu/about/news/2021-alumni-awards-recognize-career-accomplishments-distinguished-service