SVB Financial (SIVB) Buys Technology Equity Research Company
Continuing with its efforts of expanding into technology investment banking, SVB Financial Group SIVB has acquired a New York-based independent sell-side research firm, MoffettNathanson LLC. MoffettNathanson is known for its coverage of high-growth, disruptive companies in the media, communications and technology sectors.
MoffettNathanson was founded in 2013. Since then, it has been considered the standard-bearer of technology equity research.
Following the announcement of the acquisition, shares of SVB Financial have gained 3.5%.
SVB Financial is a diversified financial services company that operates through, among others, the Silicon Valley Bank, its primary subsidiary, providing a wide range of banking and financial products and services.
SVB Financial provides commercial banking services through Silicon Valley Bank, investment banking services through SVB Leerink (Leerink Holdings LLC was acquired by SVB Financial in 2019), private banking and wealth management services through SVB Private Bank, and funds management and investment services through SVB Capital.
With the acquisition of MoffettNathanson, SVB Leerink (which currently provides investment banking services across healthcare sectors) will be able to expand its research coverage beyond healthcare to include companies in the technology industry as well.  
Greg Becker, the president and CEO of SVB Financial, stated, "The MoffettNathanson team has built an incredible reputation as a leader in equity research. The addition of technology equity research is another important step in further solidifying our place as the essential partner to innovation economy clients. I'm proud to welcome the MoffettNathanson team to SVB and continue to strengthen the capabilities of our investment banking practice."
Craig Moffett, the founding partner of MoffettNathanson, commented, "Insight into the innovation economy is absolutely critical to understanding the sectors we cover. SVB's deep relationships with the world's leading innovators will not only bring our clients unique opportunities to participate in the value creation cycle of earlier-stage growth companies, they will also provide our analysts with unique insights into the competitive forces that will shape the destinies of the largest companies in our coverage universe."
Notably, SVB Financial's Technology Investment Banking team has been demonstrating solid growth, with additional hires in the internet, consumer/marketing software, fintech, and enterprise software sectors.
Our Take
SVB Financial has been undertaking efforts to expand globally. While its U.K. and Asia operations seem to be growing, businesses in Canada and Germany are expected to further boost revenues.
In July 2021, it acquired Boston Private, which is expected to further strengthen its private bank and wealth management offerings. Last year, SVB Financial acquired the debt investment business of WestRiver Group. These deals will likely keep supporting its position as one of the foremost providers of financing solutions to innovative companies.
Over the past year, shares of SVB Financial have gained 91.9% compared with 52.5% growth of the industry.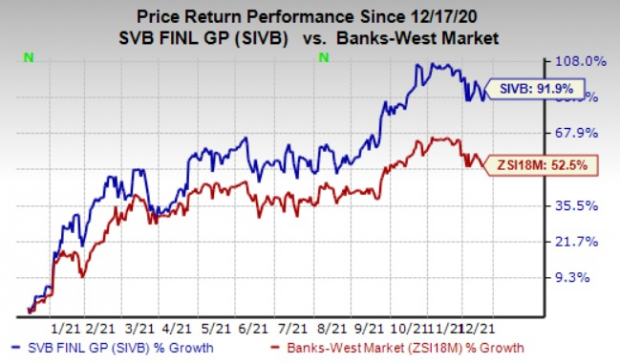 Image Source: Zacks Investment Research
Currently, SVB Financial carries a Zacks Rank #3 (Hold). You can see the complete list of today's Zacks #1 Rank (Strong Buy) stocks here.
Inorganic Growth Efforts by Other Firms
Several companies from the finance sector are undertaking consolidation efforts to counter the low-interest-rate environment along with the heightened costs of investments in technology.
A few days ago, United Bankshares, Inc. UBSI announced the completion of its merger deal with Community Bankers Trust Corporation. This June, United Bankshares entered an all-stock deal to acquire Community Bankers, the parent company of Essex Bank.
The buyout has brought together two high-performing banking companies. It bolsters United Bankshares' position as one of the largest and best-performing regional banking companies in the Mid-Atlantic and Southeast. The combined entity will now operate across 250 locations in opportunistic markets in the United States.
Last month, CVB Financial Corp. CVBF, the holding company for Citizens Business Bank, announced that Citizens received regulatory approvals from the Federal Deposit Insurance Corporation, and the California Department of Financial Protection and Innovation to complete its previously announced merger agreement with Suncrest Bank. The stock-and-cash deal worth $204 million is expected to close on or about Jan 7, 2022, subject to the satisfaction of all remaining closing conditions.
In an effort to expand its presence, CVBF announced the agreement and plan of reorganization and merger in July, according to which Suncrest bank would merge with and into Citizens. The acquisition is the second-largest in CVB Financial's history.
Citizens Financial Group, Inc. CFG has also completed its previously announced merger with JMP Group LLC. Citizens Financial announced the all-cash deal in September to augment its capital market capabilities.
The buyout is expected to foster growth, diversify Citizens Financial's capital market platform, and provide greater scale in key verticals like healthcare, technology, financials and real estate.
Infrastructure Stock Boom to Sweep America
A massive push to rebuild the crumbling U.S. infrastructure will soon be underway. It's bipartisan, urgent, and inevitable. Trillions will be spent. Fortunes will be made.
The only question is "Will you get into the right stocks early when their growth potential is greatest?"
Zacks has released a Special Report to help you do just that, and today it's free. Discover 5 special companies that look to gain the most from construction and repair to roads, bridges, and buildings, plus cargo hauling and energy transformation on an almost unimaginable scale.
Download FREE: How to Profit from Trillions on Spending for Infrastructure >>
CVB Financial Corporation (CVBF): Free Stock Analysis Report
SVB Financial Group (SIVB): Free Stock Analysis Report
United Bankshares, Inc. (UBSI): Free Stock Analysis Report
Citizens Financial Group, Inc. (CFG): Free Stock Analysis Report
To read this article on Zacks.com click here.
The views and opinions expressed herein are the views and opinions of the author and do not necessarily reflect those of Nasdaq, Inc.
https://www.nasdaq.com/articles/svb-financial-sivb-buys-technology-equity-research-company