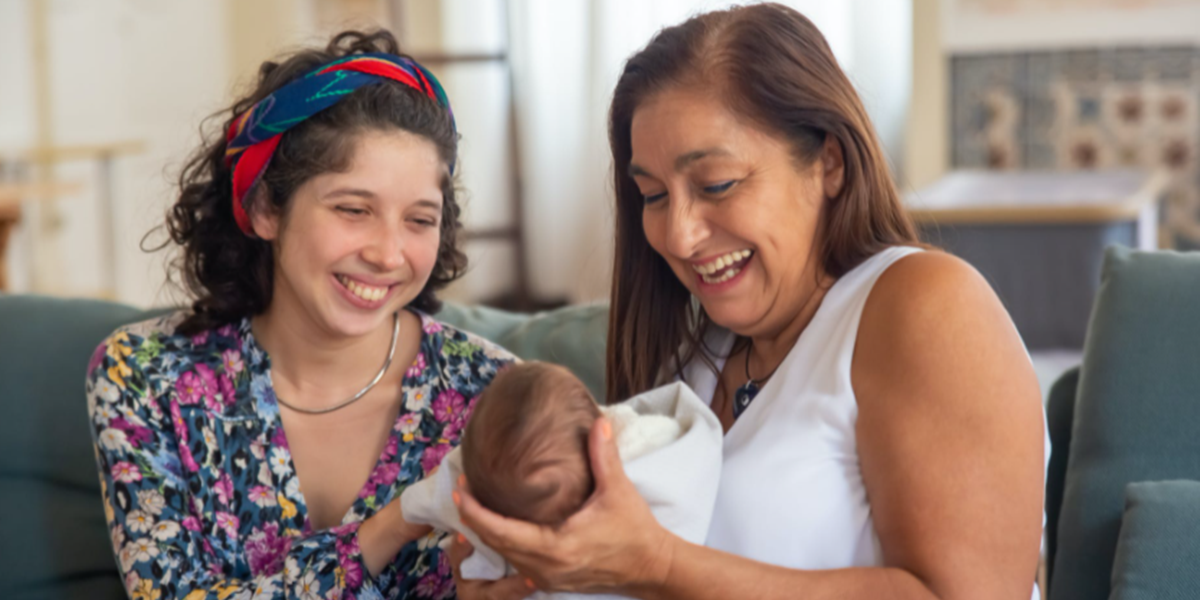 UK company gives grandparents paid leave
Most grandparents play an important role in helping their families when their children welcome a new child into the world.
Grandparents can be called on to watch over the family's older children while their parents care for the newborn in the hospital. They also may have to run errands, take care of pets or stop by the house and watch the newborn so the new parents can get some much-needed rest.
For many grandparents, this involves traveling across the country and taking time off work to support their growing families. Becoming a new grandparent means taking on a whole host of responsibilities. However, we never hear about grandparents getting paid leave to help their families.
Saga, a U.K. travel and insurance company for the over-50s, is showing support for the grandparents who work at their company by offering a week of paid leave to celebrate the birth of a grandchild.
---
Saga has become the first UK firm to offer grandparents paid leave for the birth of a grandchild. https://www.telegraph.co.uk/business/2021/12/09/saga-first-company-offer-paid-leave-grandparents/u00a0u2026pic.twitter.com/RuWP0jmRGi

— Charles Hymas (@Charles Hymas)
1639032667
"This is about helping new grandparents celebrate a special moment and play a role in growing families from day one," said Jane Storm, the chief people officer at Saga. "It is also a symbol of how important older workers are to their companies and society.
"Our customers are mostly over 50 and we want to have more colleagues here that reflect the community we serve," Storm continued. "We also think this idea should be a key attraction for retention and recruitment."
In addition to getting a week off, all grandparents will have access to the company's onsite nursery in Folkestone, Kent. While the new company policy is a wonderful gesture for their older employees, for some, having time off for their grandchildren is a practical concern.
In the U.K. about 40% of grandparents aged over 50 provide regular childcare for their grandchildren.
"Embracing family-friendly working practices makes business sense," said Justine Roberts, the founder of the online community Gransnet. "Employers who recognize the fact that their employees have relationships and responsibilities outside of work will reap the rewards of increased loyalty and staff wellbeing."
Americans have to be shaking their heads at how far Europeans have progressed when it comes to paid family leave. The U.S. has no federal law granting paid family leave. In fact, in the U.S. only 21% of workers have access to paid family leave through their employers.
He strung us all along for months, saying he was close then backing off over and over, and then went on *Fox* to kill the whole bill. nnKilled child tax credits, paid maternity leave, fighting climate change, free pre-K.nnWords canu2019t describe the anger.https://www.theguardian.com/us-news/2021/dec/19/joe-manchin-biden-build-back-better-no-fox-news?CMP=Share_iOSApp_Otheru00a0u2026

— Tim Streit (@Tim Streit)
1639927325
In the U.K., Statutory Maternity Leave grants new mothers up to 39 weeks of paid leave. For the first six weeks, they are paid 90% of their average weekly earnings. And for the next 33, they are eligible for £151.97 ($204) a week or 90% of their average weekly earnings, whichever amount is lower.
Four weeks of paid leave were added to the Biden Administration's Build Back Better bill in early November. However, the bill's fate is now in jeopardy after losing the tie-breaking vote of Democratic West Virginia senator Joe Manchin. Manchin said that he wouldn't vote for the Build Back Better bill last Sunday on Fox News citing inflation worries.
From Your Site Articles
Related Articles Around the Web
window.REBELMOUSE_LOWEST_TASKS_QUEUE.push(function(){
function hideBodyForSponsoredPost(el, currentSection) { var sponsoredSections = ["walgreens", "capital one", "capital one csr", "clorox powerful bleach", "clorox clean transforms", "dignity health", "ford foundation", "stand together", "stand together against poverty", "featured"]; if (sponsoredSections.includes(currentSection.toLowerCase())) { el.style.display = 'none'; } }
function hideEmpty( parentId, childId) { var parentDivs = document.getElementsByClassName(parentId);
if(parentId != undefined && parentId != null) { for(var i=0; i { if (event.target && event.target.classList.contains('show-more')) { triggerComscorePageView() } });
urlChangeHandler(triggerComscorePageView);
});
window.REBELMOUSE_LOWEST_TASKS_QUEUE.push(function(){
(function() { try{var a={l1:document.location.host.replace(/^www./,""),l2:document.title||"Untitled",l3:"__page__",l4:"-",sa:"",sn:""},b=[],c;for(c in a)b.push(c+"="+encodeURIComponent(a[c]));b=b.join("&");(new Image).src="https://d26n2uyu5tcx3y.cloudfront.net?a=5ac31c1640c74c36900b97047f570f19";var d=document.createElement("script");d.type="text/javascript";d.async=!0;var e=document.getElementsByTagName("script")[0];e.parentNode.insertBefore(d,e);d.src="https://z.moatads.com/upworthy105Vonz37/moatcontent.js#"+b}catch(f){try{var g= "//pixel.moatads.com/pixel.gif?e=24&d=data%3Adata%3Adata%3Adata&i=MOATCONTENTABSNIPPET1&ac=1&k="+encodeURIComponent(f)+"&j="+encodeURIComponent(document.referrer)+"&cs="+(new Date).getTime();(new Image).src=g}catch(h){}}; })();
});
window.REBELMOUSE_LOWEST_TASKS_QUEUE.push(function(){
(function(w,d) { w.kwa || (w.kwa = function()
{ (w.kwa.q = w.kwa.q || []).push(arguments); } ); se = d.createElement('script'), fs = d.scripts[0]; se.src="https://cdn.keywee.co/dist/analytics.min.js"; fs.parentNode.insertBefore(se,fs) }(window, document));
kwa('initialize',603);
});
window.REBELMOUSE_LOWEST_TASKS_QUEUE.push(function(){
var tags = [ 'https://pymx5.com/scripts/ready.js', 'https://pymx5.com/scripts/ims.js', 'https://pymx5.com/scripts/load_tags.js' ]
function l() { if (tags.length) { var tag = tags.pop(); var script = document.createElement('script'); script.setAttribute('src', tag); script.onload = l; document.body.appendChild(script); } else { window.ia = window.ia || function () { (window.ia.q = window.ia.q || []).push(arguments); } ; ia('track', 'PAGE_VIEW');
docReady(function() { ims.startServices(); } ); } }
l();
});
window.REBELMOUSE_LOWEST_TASKS_QUEUE.push(function(){
let asd=false
});
window.REBELMOUSE_LOWEST_TASKS_QUEUE.push(function(){
function fbvideoID(frame) { var myRegexp = /2F(d+)%/g; var match = myRegexp.exec(frame); return match[1]; } var fbIframe = document.querySelector('iframe[src^="https://www.facebook.com/plugins/video.php?"]'); if (fbIframe) {fvVidID = fbvideoID(fbIframe.getAttribute('src')); if (fvVidID) { fbIframe.insertAdjacentHTML("beforebegin", '
'); // fbIframe.parentNode.removeChild(fbIframe); } } var videoId = "promoted-video"; var oldFacebookVideo = document.getElementById(videoId); if (!oldFacebookVideo) { return }; var facebookVideoPost = oldFacebookVideo.closest(".widget"); if (!facebookVideoPost) { return };
var facebookVideo = facebookVideoPost.querySelector("#" + videoId); facebookVideo.classList.add("fb-video"); var firstPost = document.querySelector(".widget.post-partial");
function onScriptLoad() { FB.init({ appId: window.REBELMOUSE_BOOTSTRAP_DATA.fbId, version: window.REBELMOUSE_BOOTSTRAP_DATA.fbAppVersion, status: true, cookie: true, }); FB.XFBML.parse(); if(fbIframe){ fbIframe.parentNode.removeChild(fbIframe); } }
function loadFacebookScript() { var existingScript = document.querySelector('script[src="https://connect.facebook.net/en_US/sdk.js"'); if (!existingScript) { var script = document.createElement("script"); script.src = "https://connect.facebook.net/en_US/sdk.js"; document.head.appendChild(script); script.addEventListener("load", onScriptLoad); } }
function intersectorCallback(video_player) { var booted = false; var totalSeconds = 0; var interval = null;
function impressionCounter() { totalSeconds++; console.log("I've been watching for " + totalSeconds + " seconds"); } return function intersector(entries) { var entry = entries[0]; if (entry.isIntersecting) { if (!booted) { booted = true; video_player.mute(); video_player.play(); } interval = setInterval(impressionCounter, 1000); } else { if (interval) { console.log("I've stopped watching at " + totalSeconds + " seconds"); clearInterval(interval); interval = null; } } }; }
function trackVideo(video_player) { var observer = new IntersectionObserver(intersectorCallback(video_player), {}); observer.observe(facebookVideo); }
function onFacebookElementLoaded(msg) { if (msg.type === "video" && msg.id === videoId) { trackVideo(msg.instance); } }
function onFacebookReady() { FB.Event.subscribe("xfbml.ready", onFacebookElementLoaded); if (window.oldFacebookWaiter) window.oldFacebookWaiter(); }
if ("FB" in window) { onFacebookReady(); } else { window.oldFacebookWaiter = window.fbAsyncInit; window.fbAsyncInit = onFacebookReady; loadFacebookScript(); }
});
https://www.upworthy.com/a-uk-insurance-company-is-now-giving-new-grandparents-one-week-of-paid-leave